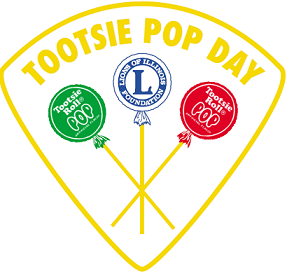 Tootsie Pop Day is May 4th and 5th, 2024
This sweet treat will help raise funds to support vision & hearing programs and services and programs for both your Club and your LIF.
Lions and volunteers will be visible throughout their communities on the first Friday and Saturday of May for Tootsie Pop Day! Lions will be giving away Tootsie Pops and accepting monetary contributions to be used in helping those with vision and hearing needs. It is almost impossible for those who can see and hear normally to fully understand what it is like to be visually or hearing impaired, but they can help through their support of Tootsie Pop Day.
People can show their support by giving generously, helping underwrite the price of a case of candy, or volunteering for a few hours on Tootsie Pop Day. Persons wishing to join the Lions in their fight against the effects of vision and hearing loss should contact the local Lions Club or the Lions of Illinois Foundation.
For forms and more information, click here!
---
Thanks to Kohl's Cares for helping with this fundraiser!